April 4-7
2002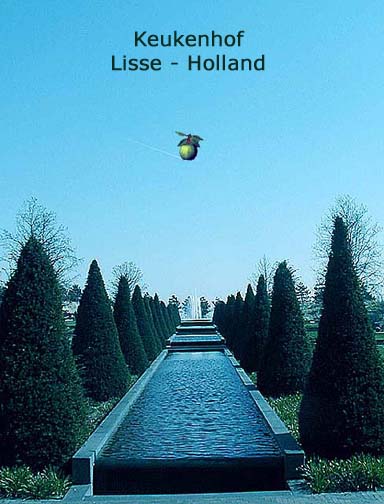 April 4 - Ben drove us up to the airport, but our plane was delayed 40 minutes because it was raining in Barcelona. After an uneventful flight, train to Central station and tram to hotel, we were ignored at check in for half an hour. Not really a 4 star hotel or room - mini bar not even cool, tiles in bath are stained, slow sink and tub drainage, room too hot. We settled in and went out for dinner around 6 pm (everyone eats early here). The nearest "kosher" place was not appealing, so we went up Damrak for Akropolis (good feast - not Athenian style, maybe cypriot) well prepared, good wine selection. Went to bed early
April 5 - Bread and juice in room, coffee and tart, carrot cake on the way to train to Haarlem, then bus to Lisse and a shuttle to Keukenhof Gardens.
Impressive! Acres of garden, blooms of hyacinth, daffodils, tulips, prunus, leafs and buds all over, orchid exhibit well grouped and arranged, mums galore in every color, bromeliads, anthurium and begonias, maze, swans on the pond, great garden ideas, a snack of fruit, a stop in the book shop and then the main exhibit. Prince Willem Alexander Pavillion - an absolute sea of blooms - all the "early" ones we had seen along the trails plus a "forced early" collection of all the varieties planted at the Gardens (there are more than 7,000 bulbs around). Great clouds of blue lilacs, azaleas, callas and rhododendrons. A stunning visual overload of colors! Amazing!
Trip back with a stop in Haarlem to relax, dinner of cheese, bread and beer in our room and again an early bedtime.
April 6 - Morning walk to tram and Albert Kuyperstraat Market. Our first stop was at Bagels and Beans for a "double" (2 cups of coffee) and some excellent fresh baked bagels. For 4-5 euros these guys make some great looking bagel sandwiches. The Market street runs down both sides of Kuyperstraat for blocks and has everything from food and flowers to luggage, home decor, bedding, clothes, snacks, used goods, antiques - bustling but with very little hustling. We had a nice little splurge in a spice shop - great blends, teas, incense and kitchen wares available in vast variety. A few hours of wandering one side to the end and back brought us to the trams, but lunch or a snack seemed a good idea. We went to a Schwarma shack with a friendly guy from Cairo behind the counter and some superior schwarma and sauce. A stop back in our room to rejuvenate and store our goodies brought us to evening.
A trip up to Centrum and a stop at the Sex Museum (our buddy Paul had told us that we had to see it). It is silly, fun and good entertainment for only 2.50 euros - it essentially puts an historical perspective on people's attitudes about sex from ancient Greece and Italy to modern times, and uses a variety of media. From there we strolled along ducking into shops with window displays that caught our eye. We later headed over to Anubis - mainly to see it - cool Egyptian motif. It would have been nice to sample some of their menu, but they only serve full 7-12 course dinners in the evenings so our plan to graze our way through Centrum failed. Just below Anubis was the Soup Kitchen, but they closed their doors just as we got to within 100 yards. I´d seen a sign for "Thais" so we said "why not?", knowing we could sample and have a beer. We had a lovely Pad Thai, followed by a rich spicy chicken red curry with long beans. The host was gracious and friendly, service was a bit slow (but we were ordering one dish at a time) - our meal was a very fair price for quality and a made a great way to wrap up the day.
April 7 - Slept in a bit, then headed to the Concertgebouw for a mass by Charpentier - 12 voices, 13 instruments - quite good. Perfect acoustics in a rather austere setting, classy but simple, pleasant. One goal of our trip was to try to find a good Kosher Delicatessan. So, after the concert we headed off to find Sal Meier´s (it is rated unanimously as the "best" in Holland). Ok, it was inexpensive, kosher, but... soggy bread, fatty corned beef, no horseradish and they never heard of kreplach. Good chicken soup and pickle tasted good, sandwiches left a bit to be desired.
Now home to Sitges!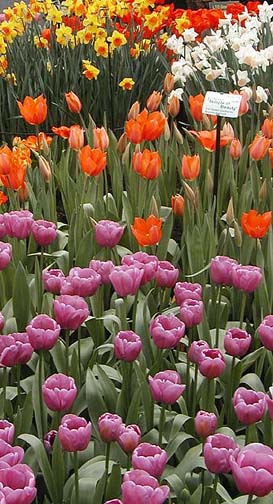 There are more than 7,000 bulbs that bloom here each spring!