France
Republic of France
France is one of the world's major industrial powers and is known for its art, museums, vineyards, food, culture and style.
Paris, the capital city, is one of the most beautiful city in the world, the currency is the Euro, and French is the official language.
Generally there are cool winters and mild summers, with very mild winters and hotter summers along the Mediterranean at 46° 00'N, 2° 00'E
A population of 59,128,000 live in 22 regions, within 550,100 sq km (212,394 sq miles).
A wide plain covers much of the country with several major mountains ranges, and rivers.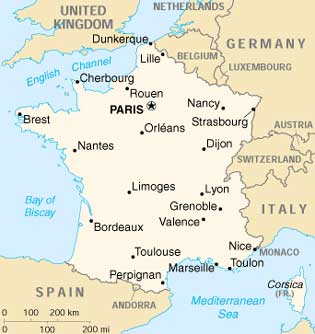 For history and more,
click below: