January
2002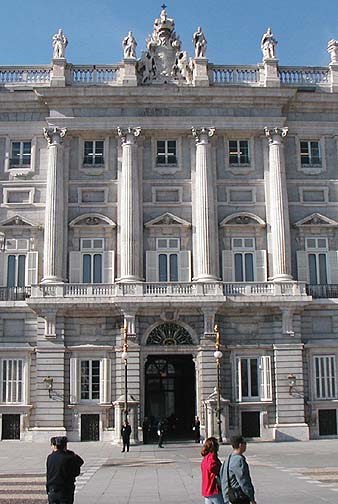 January 19, 2004 - We arrived mid day in at Barajas airport and took the quick and easy metro transfers to Atocha (bought a 10 pass for 5.35 euros that we could both use). We found our hotel easily and checked in to the very comfortable room - good colors, nice pocket doors with glass panels. After settling in, we stopped into La Brillante (for the "best calamari bocadillos in Madrid"), heavily garlicked tapa of shrimp, fresh crusty bread and some wine. Superb!

Feeling refreshed, we walked up Paseo Prado past the park. We had thought to visit the botanical garden, but through the iron fence it was obviously ailing from winter freeze - it is varied enough that it would probably be quite pretty in the spring.

Our first "museum stop" was the Thyssen-Bornemisza Museum. It contains a very eclectic personal collection of about 800 works. There are many old Dutch artists, Italian, German, Spanish, French, American, landscapes and still life, impressionist and surrealist - from the 16th century all the way up to modern artists, ordered chronologically - very interesting. The building is being extended now, but the original is considered to be a "fine example of Madrid's neoclassical architecture. Living so close to Barcelona and its fabulous panoply of styles, we found architecture along this walk to be rather dull.

We stopped for a coffee, and then for some supplies (cava, cheese, bread and fruit) before heading back to our room. We noticed a place called Doner Kebab just before our hotel, stopped in an picked up generously overstuffed pita pockets for dinner. Altho the day was sunny, the evening became quite chill. Back in our warm room, we relaxed, watched some of the local television, had our snack and went to bed early due to general fatigue and the altitude adjustment. Madrid is on a high plain of about 2000 feet.

1-20 After a generous buffet breakfast, we head off to spend the day at the Prado Museum. We saw everything! (with a few breaks for coffee and rest along the way). The Bosch, Brueghel, Rubens and Rafaels were fantastic. There was a large collection of Dutch works, some fine sculptures, and an underground vault showing the beautiful "Tesoros del Dauphin" (Treasures of the Dauphin). The special exhibit of Manet was excellent. It related his appreciation for Velasquez and his experiences in Spain that contributed to his first impressionist works exhibited at the Expo and inserted the depiction of everyday life into the arts of his time. Works here included preliminary sketches and samples of ideas along with the final pieces associated with them. It also had "The Bar at the Folies Bergére" which has always been a favorite of ours. Very well done!

The museum is laid out on three floors (not counting the treasure room). It is well lit for viewing in most areas, although given the size of some pieces one has to stand across the hall to see well. The long hall galleries are easy to wander, but the small maze like rooms can require some doubling back to be sure you see it all (these lack benches). The cafeteria is fairly priced with a good selection although it is possible to leave and re-enter if one wishes to go out for lunch (not much nearby, however). The collection spans 1100 to 1850.

Having seen it all, and still suffering from the altitude, we were very tired and decided to head back. We found an excellent little restaurant, Sanabria, just across for the Reina Sofia that provided us with a great lunch at a very reasonable (7.50 euros per person) price (including starter, main course, bread, beverage, dessert and tax). This was a typical Madrid style place, enormous portions. We chose the house red wine, a "Pote" (a hearty soup with cabbage, beans and a variety of zesty sausages) and "Setas con Ajo" (a chanterelle type mushroom sauté smothered in garlic butter) as the starter plates. These would have been enough of a meal in themselves with the crusty fresh bread. For our main course we chose "Codillo" (a seasoned slow roasted pig shank that was huge) and "Conejo ala Plancha" (oven roasted rabbit with garlic and herbs). Now, in Catalunya, when one orders rabbit it is normally a moderate serving of up to half a rabbit - here it was the entire rabbit!
Desserts were flan and "Nueces con Nata" (glazed walnuts on whipped cream) followed by deep rich espresso. It was a great bargain at a great price.

We stopped for water, cava, apples and snacks before returning to our room to rehydrate and rest.

1-21 Our first day "at libery" with no specific plan. And we did take our enjoyment of it. Off to the Atocha train station, an enormous structure with the appearance of a large greenhouse from the outside. Inside there is a charming tropical garden park with spray misters, street lamps, park benches and all. Many people were relaxing in the gentle humidity and warmth away from the bone chilling cold outside.

From the station, we took a metro to Puerto del Sol, saw the famous Tio Pepe sign and the Bear with Strawberry Tree statue, then took a side street up to the Plaza Major. It's big, has a nice statue and one nicely painted (although a bit tacky) facia on a building (the others are natural stone) and arcaded for a multitude of small touristic shops. We exited the plaza by a portal leading to the "Old Town" area (which is about 200 years old). Not much to appreciate for those of us who know and love Barcelona's Barri Gotic. The architecture was bland, the main church was typical, the "Mercado San Miguel" was small and modestly stocked (not like our Mercat San Josep on the Rambla).

From the mercado we went up towards the Palacio Real (Royal Palace). It was closed for official business, but it was nice to see the neoclassic exterior and the view. So we went into the Almuden Cathedral next to it. Quite an interesting place, modern gothic might be what one would call the style of it. The high ceiling arches were brightly painted with vibrant colors and gold, the organ was unusually square-ish and ultra modern looking. It seemed to be mostly style and a bit cold. The madonna who looked like a hooker in a wedding dress added to the feeling of too much glitz and ornament - a show off place. About the view from up here - the smog blanketing the city sure looks heavy and the odor of car fumes is strong.

We strolled through the Plaza de Oriente (nothing to do with the Orient, just means east). It is well manicured with a great fountain at the center. We took the Opera metro down to the Banco de España exit. The Banco has a really classy facia and is near several other grandiose buildings like Metropolis and the Palacio Linares. There's also the Fuente de Cibeles which is quite lovely. Having walked the circle aroung the Cibeles Fountain, we headed down Paseo del Prado with the intention of finding a Chinese restaurant (it had just turned to the New Year of the Monkey there). After quite a bit of meandering, I ducked into an Asian market and asked. They directed us to a nice place where we feasted on crab and asparagus soup, tofu hot and sour soup, fried noodles with shrimp, spicy shrimp with mushrooms, and a duck with shitake mushrooms. Very much enjoyed! Gung Hay Fat Choy!

1-22 Our last day and the last museum on our list of must see items. This is the Museo Nacional Centro de Arte Reina Sofia (MNCARS or Reina Sofia for short). It contains modern art from the beginning of the 1900´s to modern day and shows the works of many Spanish artist with some samples of the international artists that put the works in context. The "big one" for visitors in Picasso's "Guernica" and there is a great little model of where it was first displayed. There was a fascinating special exhibit of the room of Ramón Gómez de la Serna, an artist, novelist and journalist who had lived in Madrid and moved to Argentina. It was wall and ceiling papered with photographs and news articles, adorned with his furniture, objets d'art, books, toys and literally a thousand or more distractions and inspirations for him.

Another special exhibit was the collected works of Hannah Höch, the German expressionist whose photomontage work has inspired so many. It was an unusual and fascinating collection that spanned her lifetime.

Of special interest to us was the Surrealist collection. It covered the range from Arp, Calder and Kandinsky to Ernst, Magritte and Tanguy and had an entire section devoted to our beloved Catalan, Salvador Dalí. We thoroughly enjoyed these and were pleased to note that the Dalí's which were missing are on loan to La Caixa for exhibit in Barcelona!

After the museum, we had a little time left before our trip home, so we stopped at Doner Kebab for a plate lunch that was wonderful and at 5.90 euros per person, very generous. The basmati rice with its aromatic herbs, golden color and perfect separate grains has got to be the best rice I have had anywhere in Spain (except for at home)!

Our return to the airport was easy, a short flight and oh are we glad to be home!!!!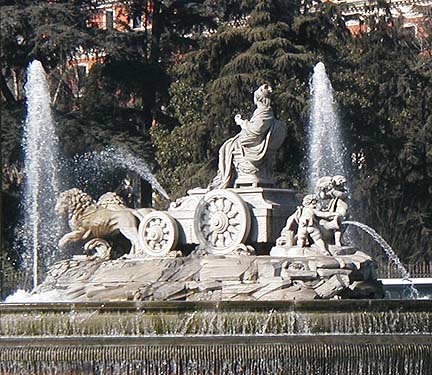 The Cibeles Fountain is one of the prettiest in Madrid