July 27 to August 3 2002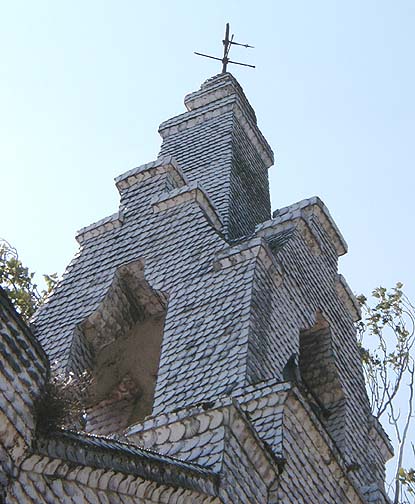 July 27, 2002 - Wednesday - We took off for Passeig de Gracia renfe around 9 pm, this gave us plenty of time to enjoy a bottle of Sangre de Toro and a variety of plates at Tapas Tapas. Near midnight, we wandered up to our bus stop on Arago. We had a expected a "lujo" or luxury coach with good sized seats and storage and leg room, not to mention an on board WC. We got a lot less - we could barely get comfortable and despite fatigue (and wine) could only nod off and on until our stop in Zaragosa where we were assigned seats. This worked (barely) since the seats were smaller and had less leg space that the first bus until it filled up in Burgos. Does the bus ride from hell ring any bells? From there on, we nodded off a little, but were never comfortable even to the point of being in pain! The lunch stop was a barely palatable 9 euro rip off. We picked up water at a gas station for 1.75 instead of the 3 euros at the bus stop. Instead of the understood arrival time of 2 pm, we got top the Santome in Gondar at 6:45 pm - that´s almost 18 hours on the bus! There were too many stops. Our only comic relief crossing the boring plains was having to stop for a herd of sheep. The plains are dry flat grazing land with few trees, hillocks or other features.

Our room was a simple, clean, one star room. Our first included meal was very poor with a mediocre white table wine, overcooked beef and soggy tepid potatoes. We look forward to better times tomorrow as we call it a night very early. Hopeful still that this adventure will get better every day!

7-29 Mon - awake by 8 am since every door's open and close echoes through the entire building. Off to breakfast of sweet and plain breads, orange juice and bad coffee - looking forward to a good expresso already. This is a rural residential area with minimal industry, so we walked up the street for our first tour of the town. Long wide plots for housing, corn, vines and a delightful assortment of wildflowers and herbs, robles, pines, small fruit trees (one with a scarecrow by it). Warm, sunny day with some clouds.

Down the road a bit was a small store with a good variety of local wines - mostly albarino whites. We asked for a taste of Ribiero (the local red) 10.5%, fruity and light like a beaujolais nouveau. Got a sample taste of Tetilla queso - much more tender and tasty than what gets shipped to our stores - delicate and creamy. Mike loved the thin slices of local made chorizo which smelled wonderful - a little fresh baked wheat bread too. Very nice. They open at 9 and close at 1 am so now we know where to go after dinner. Also sipped a licor de miel (honey orujo) - 30% good lingering liquer.

A stop by the hotel to drop off supplies then off again down the street in the other direction. Lots of bodegas with "casero" or home made albarinos, beautiful floribunda hibiscus, fine clematis, lots of granite. Interesting use of angled supports made from stone for support of the vines. Stopped at Capricho where the señora poured her own white - very like a dry semillion or chenin blanc - good clean finish, best so far. Pleasant lady with a good sense of humor. On our way back to the hotel, I could not prevent myself from stealing a tender young spear of corn which I husked and devoured immediately - divine, sweet perfection. Lunch was croquets, empanadas, calamares and chicken - the chicken was tender and nice - got a red table wine and started a trend around the other tables. I must remind myself we are not here for the food.

The afternoon tour took us thru Sauxenjo along the Lanzada beach to Isla la Toxa where we bought some soap, then on to O Grove. It was a pretty drive through lots of green, beach is 8 miles wide. Nice fecundity legend about the beach. La Toxa has an old victorian era hotel that now looks 50´s ish, a soap factory and a church covered with scallop shells. O Grove has tons of food, a huge marina with all boat activities, sculpture park for summer a carousel, churro stand and fun stuff. While many went off in a glass bottom boat, we investigated town, sampled orujo and stopped for a cold beer and pop gallego (the local octopus specialty), also had a good cup of coffee. Too full for dinner, we had a little salad and headed up to our room for a little study about A Coruña for tomorrow.

7-30 Tues - Coffee, orange juice and the bus north - ready for a busy day - some clouds in the sky and a little cooler out. So green here, nice contrast of corn and grape, lots of trees, deep glens that drop off to the sea, stone houses, storage cribs, rolling hills, granite, eucalyptus. Looks rainy on the higher hills.

Well we were dropped at the port to fend for ourselves as the others took off to find a tour guide. Went to the tourist office and found that a 75 centimo trolley ride would get us up to the Tour d'Hercules and give us a trip along the paseo maritime. We just had time to see the statue of Maria Pita, the great square around her and have a cup of real coffee before the trolley was due.

The trolley took us up to the tower as it began to rain. Not too heavy but enough that we were both thought of our drizzly visit to Delphi some years ago. This too had a magic to it - lovely craggy coast with curious sculptures and the looming tower of hercules. We hopped back on the trolley (a real gem) and rode it all the way around and back to the end of the line. Then returned to the designated meeting point to join the group for lunch a A Pineira where we had a decent vegetable soup, chicken noodle soup, bread, soso beef with rice, and a banana for dessert. From lunch we head back to the Ciutad Vella (Old City).

What once may have been an old gothic quarter of some character has been done and re-done. We visited the old 12th century Iglesia de Santiago (romanesque - great green door), and San Juan both of which still have most of their old character. A stop at The Creperie Petite Bretagne for fair priced and exceptionally good savory and dessert crepes (with coffee). The sun is just coming out at 7 pm so our day was cool and very refreshing. We saw the best of the old town and maritime area and if here again might take in the aquarium, Domus and the archaeoligical museum. The bus driver played the american movie "Liar, Liar" on the 2 hour drive back to the hotel. Had a bite of dinner and went back to learn about tomorrow's adventure.

7-31 - very early morning call - had orange juice but skipped the coffee. Fellow bus riders brought along the traditional cookies and cakes to snack on as we rode off to Santiago de Campostella. WOW! We toured the entire church, courtyard, museum, crypt and palace monastery - incredible spectacular place and it was an absolutely beautiful day for it! Details in guide book.....

After a dinner with some nice fish (after the heavy greasy batter was removed) followed by a light lettuce onion and tomato salad, and melon for dessert, we took off up the road to have an evening espresso and a "chupito" of orujo. Some Basques and Riojanos in our group asked us to join them in a round and 2 hours later (after some rousing and sometimes raunchy songs) we called it a night.

8-1 Early start to Valença do Miñho in Portugal - very pretty small town built up over an old fortress on the hill across the Miñho river. Ideal weather, great views from the top, old stone walls, small churches here and there. Our next stop was for lunch at La Cabaña in A Guardia - good food, service and wines. From there we went up the steep hill to Santa Tecla for an outstanding view of Portugal, the Miñho and Spain, great Celtic round house ruins, strong winds in a strong place. Next stop, Baiona, a very touristic beach town surrounded by lovely green countryside, an old fortress, a replica of the Niña (remember Columbus), nice big sandy beach. On to Vigo, big port town and mostly modern, ducked into an interesting place for a cold drink then back to the hotel.

8-2 Another early start off to Pontevedra with its nicely cared for Casco Antiguo, lovely courtyard gardens, San Francisco and Santa Maria churches with pretty interiors (16-17-18 century goldwork), Capilla's greatly ornate exterior and drab interior, Santo Domingo ruins were fascinating. Interesting place, lovely alameda, beautiful old magnolia. The bus stopped at Combarro on our way back for lunch. Here we had a chance to dip our toes in the Atlantic off the NW coast of Spain, walk along the promenade and sit and watch the boats in harbor while others shopped.

Lunch was surprisingly good - salad, trout in picante sauce with sauteéd potatoes, paella and sandia (watermelon). Had a little rest before heading off again for Padron. Started at Iria Flavia with a tour of the old train museum while waiting for entry to the Jose Cela Museum (he was a very interesting writer). Across the street was a church with the Adena cemetary where many famous and regular folks of galicia reside. There was only one grave that was noticeably unattended (I placed some purple wildflowers on it), the rest were adorned with fresh flowers, at the rear was a lusciously adorned grave with many small bouquets on it - the woman had died at 87 and the family planted a richly scented deep red rose bush at her head - lovely. After the grandeur of so many churches on this tour, the simplicity of this country church with garlands of jasmine and white lilies was a gracious end to our visit. The Cela Museum held a vast collection of his writings, drawings, and personal memorabilia which was very interesting.

On the way back to the hotel, we stopped at a local shop for the local specialty, Padron chiles. These were deep fried and then salted, very mild tasting. After dinner, there was the traditional farewell drinking party "Quiemada". It's a brew of apples and pears with some coffee beans tossed it and brought to flaming with orujo until the fruit carmelizes. During this process, there are incantations (ala Celtic rituals), a dance involving everyone with hands over their heads in a large circle and finally the drink served to all. It was an exuberant and loud gathering!

8-3 We finally had a chance to sleep in - taking it easy, showering, thinking about packing up. No more tours today so we can plan as we go. The morning skies were thick with clouds and just beginning to clear when we walked out at 11:30. Up to the small shop for double espressos, then off to hunt for wineries. Stopped at one for a refreshing albarino and a rioja that was young and fresh tasting. They brought us chorizo and bread as we sat on the granite terrace reading about their local festa and some poetry in the local paper. What a nice way to relax. And so went the day...Before dinner we went out for coffee and picked up a nice tetilla to go with our ribiero for lunch on the way home, then finished our packing.

The special dinner for our last night was a "mariscada" or seafood dinner. It started with a plate of langostino, small crabs and a giant crab, followed by scallops gallego (all very good), then little shrimp cooked in lemon butter, and finally a flavorful veal steak, then flan. This was the best meal we had at the hotel. After dinner, we went back to our room to be ready for a 5:30 am wake up call to head home. Can't wait!!!!!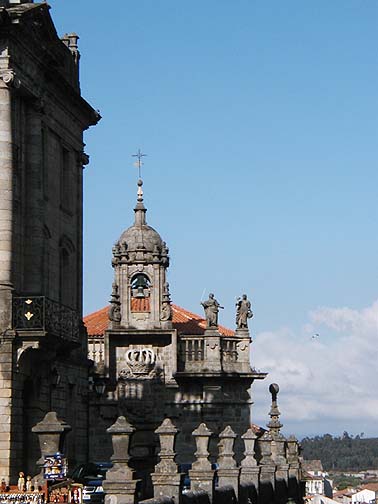 A major highlight on any tour of Galicia is Santiago de Compostella