April 17

Saturday
Our second morning in St. Petersburg greeted us with gusty winds and torrential rain! This cancelled our plans to attend an Art Festival featuring local drawings, painting, ceramics and sculpture that was to be held in the beachfront park two blocks below our hotel. When we found that the nearest coffee was a block and a half away and around the corner (the only disadvantage to our comfortable hotel), we packed up, checked out, and headed for the local hi-tech coffee spot, the Daily Grind. We asked for their strongest coffee (French Roast) and made it drinkable by adding a shot of espresso. They sure like watery coffee in this town. We sat, drank our coffee, ate some fresh blueberry muffins, read the paper and decided to head back to Tampa.
Our intention was to visit the Florida Aquarium. It's an impressive architectural wonder - a glass and steel half dome that houses four 60 foot deep habitats representing the Wetlands, Bays and Beaches, Coral Reefs, and Offshore aquatic species. We arrived a couple of hours after opening and found a parking space right in front. When the attendant said they had just about reached capacity, we were convinced that everyone and their children had come to get out of the rain.
We took off for Ybor City. After a quick orientation drive, we stopped at the Ybor City State Museum. Exhibits provide an appreciation for the city's rich cultural history, the first industry (cigar making), and the diverse ethnic culture. Ybor was once known as the "Cigar Capital of the World" and was founded in 1886 by Vicente Martinez Ybor (from Valencia, Spain) who welcomed Cuban, Spanish, Italian and Jewish immigrants to his factory. Joanne Martinez, the docent in charge for the day, gave us a quick tour and led us to a video presentation about the city and its industry. Of special interest were the "lectors" who stood on raised platforms in the factories and read to the workers every day. They would read books and newspapers chosen by the workers and were paid by the workers. This created a stimulating atmosphere that promoted political and literary discussion and helped to educate the workers in the American language. Incidentally, the workers were paid the same rate regardless of their sex and based only upon their skill in the trade.
The various ethnic groups formed mutual aid societies and provided medical, educational, recreational and social benefits for the people. These societies had libraries, athletic and dining facilities, and offered Saturday night balls and Sunday afternoon dances - all for a 25 cent member fee! The company provided "shotgun" style casitas (houses) that encourage immigrants to come to Ybor City because the had an opportunity to become homeowners. Mr. Ybor rented the houses for $1.50-2.50 per week and arranged for his workers to buy them ($400-900) by allowing them to deduct a small portion of their weekly pay.
After a pause in the lovely little garden courtyard next to the museum, we visited one of the original worker's homes. Two charming and ancient Cubanas gave us a history lesson and took us on a tour of the house and grounds. The modest looking house was very roomy with wooden floors and paneled walls. It had two bedrooms, a good size living room, and a large kitchen with wood burning stove and ice box. There was excellent cross ventilation due to ample windows, a raised foundation and 12 foot high ceilings. The back yards contained small livestock, vegetable gardens, the bathtub and out house.
The Columbia Restaurant provided an outstanding Cuban meal - Cuban caviar (pate of black beans with minced bermuda onions, cilantro and chili peppers), fresh mahi cayo hueso, fork-tender roast pork Cubana, wonderfully seasoned black beans and tasty yellow rice accompanied by Ybor Gold (the local brew). Dessert was flan for Salvador and an espresso with a Gonzalez y Martinez corona (manufactured on site) for me. The restaurant was opened as a corner café in 1905 and has amassed hundreds of hand painted tiles (with a Don Quixote theme and others). It now takes up an entire block and is delightfully decorated in a Spanish style with marble walls and table tops, wrought iron, dark wood antiques, and the tiles. It's exterior is also adorned with tile murals. The food here is of high quality and freshness (next time I'll try their famous paella), the atmosphere is warm and fascinating - this is an essential to drop in on when one visits Ybor City.
After lunch, we wandered up and down La Septima, the main street in town. We ducked in to local shops (picking up a few local made cigars), looking at antiques, enjoying a cup of coffee at the Ovo Café, and stopping to meet and chat with Arnold Martinez (Joanne's husband) who is a well known local artist. He is best known for his painting of the Rough Riders and has designed the cigar band for "Bully Bully" cigars. In his paintings, he depicts Ybor City at the height of its development - he remembers it from his childhood and is pleased to see it being returned to its former glory. The Columbia has its own cigar shop and we were treated to a tour. Their "Grand Master" cigar roller comes from Cuba and has spent 50 years in the industry. Two boxes of his cigars weight less that 1/10 ounce in difference! Ybor City is a warm and friendly town - it is revitalizing and has become a popular night spot for many visitors, but is well worth a day of discovery.
On the way to the airport (we had about an hour before we were due), we drove south through Tampa just to see what we could see. Can you imagine our astonishment when we came upon a set of buildings straight out of tsarist Russia? We had come to the campus of the local university. It was most impressive with its brick walls and onion shaped domes. The landscaping is as dramatic as the buildings which were originally the Plant Hotel and served as a destination resort at the turn of the century. There are old photos of the family suites, formal dining room, ballroom, etc. in the lobby. Here we sat in huge overstuffed red leather arm chairs, reading the student paper and taking in the glorious mahogany paneling, marble columns and chandeliers. What a pleasure!
We took a short plane hop to New Orleans where Ginny and Harvey were waiting for us at the gate. From there, we drove through the dark of evening back to "the camp", supped on brie and crab soup, some wine, hot bread and salad. After some good conversation and general planning for the next day's activities, we retired to the newly finished "chateau". Their home is on a canal in Killian (just outside of Springfield) in a beautiful setting with cypress, oak, and a panoply of blooming plants.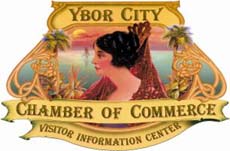 Ybor City is known for cigars and nightlife