Tunisia

Republic of Tunisia (Al-Joumhouria Attunisia

)

Tunisia, at the northernmost bulge of Africa, thrusts out toward Sicily to mark the division between the eastern and western Mediterranean Sea. Twice the size of South Carolina, it is bordered on the west by Algeria and by Libya on the south. It is about the size of Georgia.

The capital city is Tunis, the currency is the Tunisian Dinar and languages are Arabic and French

.

A population of 9,924,742 occupy a total land area of 63,170 sq mi (163,610 sq km)

.

The climate is temperate in the north with mild, rainy winters and hot, dry summers; desert in south. 34° N, 9° E.

Coastal plains on the east rise to a north-south escarpment that slopes gently to the west. The Sahara Desert lies in the southernmost part. Tunisia is more mountainous in the north, where the Atlas range continues from Algeria

.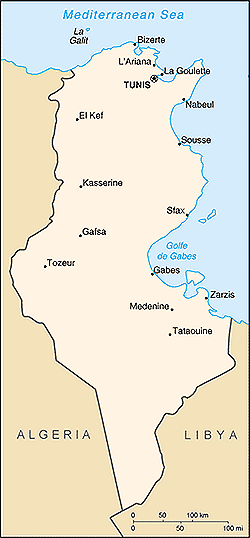 For history and more,
click below: