Portugal

Republic of Portugal

In 1415, the Portuguese set sail on an epic voyage that would make them the first to discover the ocean routes to India, Brazil, China and Japan, and at the same time founded settlements on the east and west coasts of Africa. A member-country of the European Union since 1986, Portugal currently enjoys a steady economic growth and is world famous for its wine, its history and its hospitality.

The capital city is Lisbon, the currency is the Euro, and the official language is Portuguese.

There is a population of 9,920,000 in 18 districts and 2 autonomous regions (Azores & Madeira) covering 91,950 sq km (35,502 sq miles).
Portugal has a maritime climate with temperate conditions, cool winters and warm summers. Rainy in the north, warmer and drier in the south at
39° 30N, 8°W.

Mountains and high hills cover the north, while smaller rolling hills and lowlands are south. Major rivers include Douro, Guadiana and Tagus.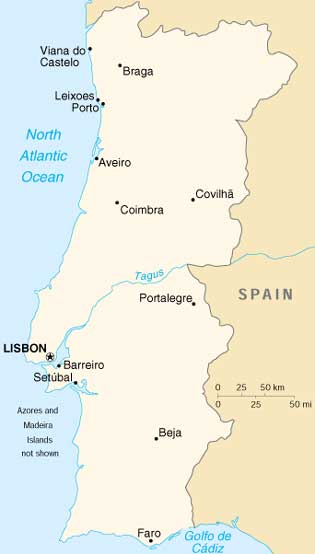 For history and more,
click below: