Monaco
Principality of Monaco
Monaco is an ancient principality that covers about one square mile, and has been ruled since the 14th century by the Grimaldi family. It has the highest population density of any country, many tax benefits, and of course the glittering Monte Carlo casino.
The capital city is Monaco, the currency is the French Franc and the offical language is French, English is common.
There is a population of 32,000 in 1.95 sq km (.75 sq miles).
The summers are very sunny, hot and dry. Winters are mild and sunny at 43° 44'N, 7° 24'E.
This is a hilly, rugged and rocky land.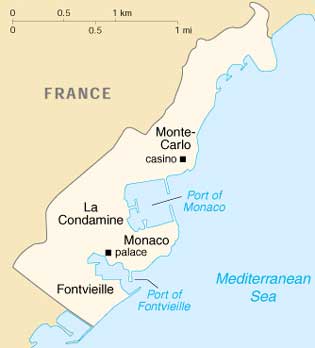 For history and more,
click below: