Italy
Italian Republic
Italy is a 100-150 mile-wide peninsula, about the size of the U.S. States of Florida and Georgia combined, Italy is a major economic force on the continent and one of the most popular tourist destinations in the world. It is safe to say that no country has given the world more fashion, paintings, sculptures, architectural styles, operas and of course...food.
The capital city is Rome, the currency is the Euro and language is Italian.
A population of 56,686,000 is 20 regiions within 294,060 sq km (116,334 sq miles).
The predominantly Mediterranean weather is hot and dry in the south, with cool winters. In the far north, Alpine winter conditions at 42° 50'N, 12° 50'E
Italy is a boot-shaped peninsula surrounded by four seas. In the north the Alps dominate, drained by the Po Valley. The remaining land is mostly mountainous and rugged. Apennine Mountains run the length of the country. The Italian islands of Sardinia and Sicily are off the southwestern coast.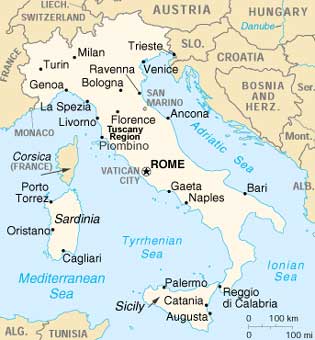 For history and more click: