We thought you might like to see some photos taken on a Sunday walk.
Notice the really ornate iron work on the "fanal" or street lamp created by Pere Falqués i Urbi. The other nice thing about the fanals is the curved back tiled bench around the bottom for people who just want a place to relax. This one happens to be about 4 blocks over from home on Passeig de Gracia and is diagonally across the street from one of Gaudí's creations, La Pedrera (Casa Mila), a multi-unit city dwelling structure.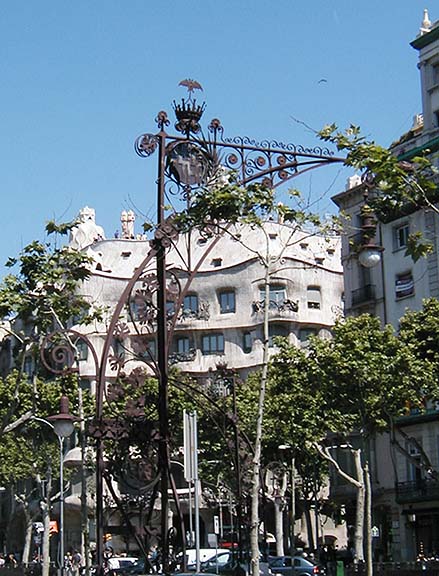 This was taken from in front of the fanal to give a closer view of the wonderous facade of La Pedrera with its unusual iron balconies and supporting base that creeps out onto the sidewalk like giant roots. Notice the people on the roof - at this time of year they are viewing the amazing "trencadis" (broken tile mosaic) covered chimneys, soon we can enjoy night time concerts up there.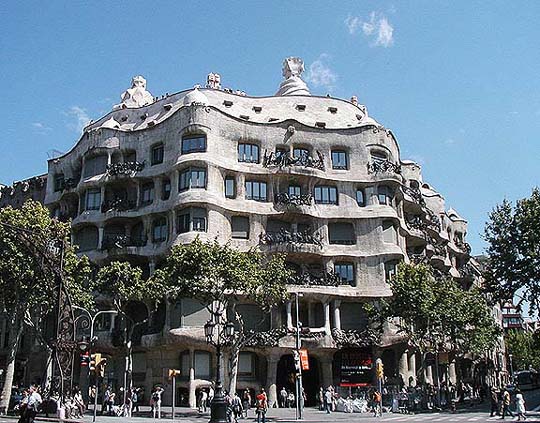 We were stopping here to see the current art exhibit which happened to be a mixed media experience of music, posters, theater sets, movies, etc. from the post WWI time period. Interesting, but a little weird at times. This photo shows you some interior along the stairway up to the free exhibit.
A bit further up the street is Palau Robert, another source of free exhibits (this time modern science and technology). Its courtyard is a nice place to enjoy some shade and a cool drink of water while people watching from a shady bench.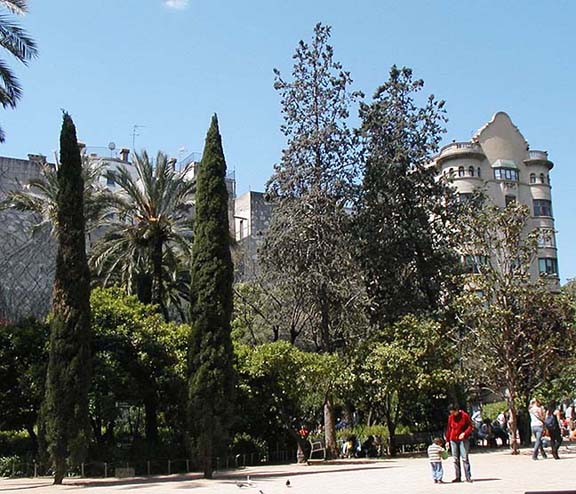 Palau Robert is at the corner of Diagonal where we turn towards Casa Asia. But, just past our destination lies a favorite of ours, Can Puntxes, with its tiled spires that show so nicely with all the trees in bloom this time of year.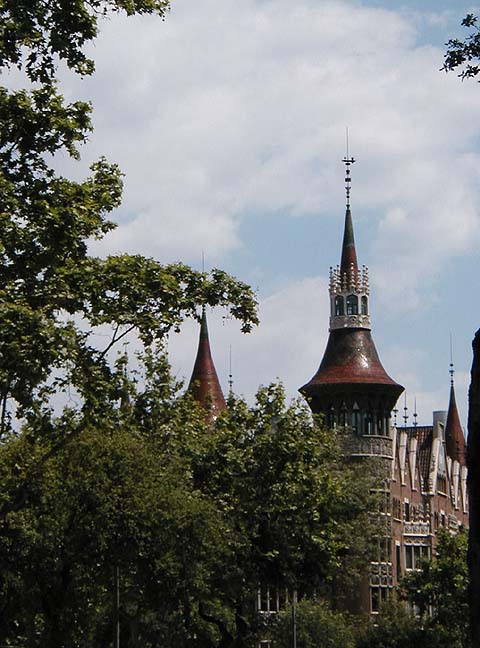 Just have to slip in a gargoyle picture here.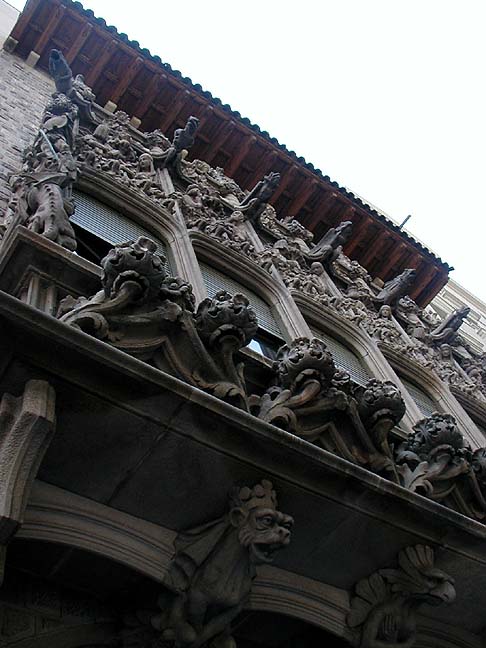 We arrived at Casa Asia (one of the many places around the city that we had not seen on the inside). Here's a shot of the front and back doors.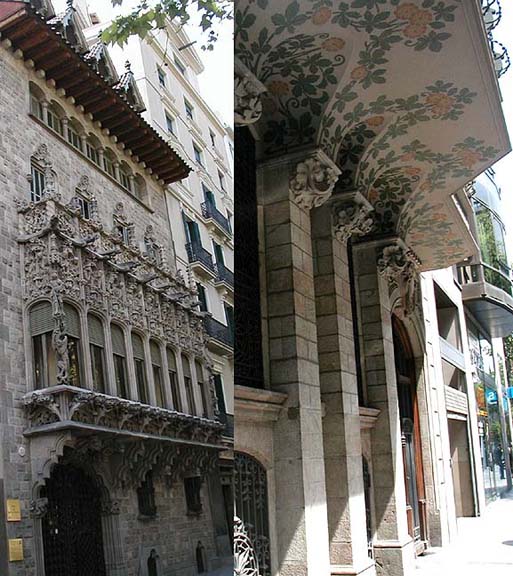 The entry is delightful, sort of a catalan-moorish-gothic sort of feel to it. There were lotus flowers growing in the fountain . . .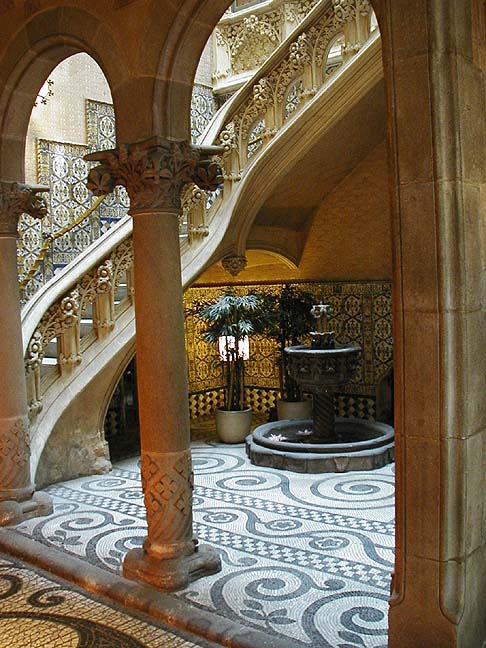 The skylit style ceiling above the entry is fairly common here . . .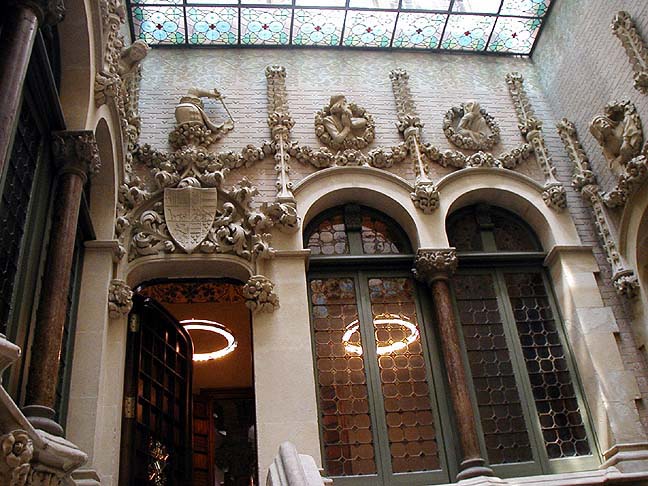 Casa Asia has some really impressive parquet floors, not to mention some fine arches and . . .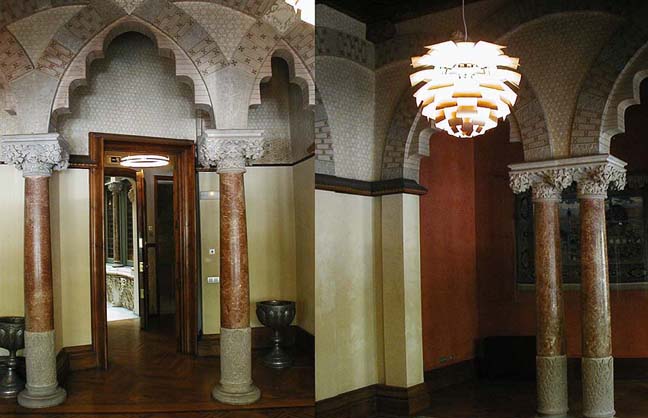 . . . iron work - check out the door and fireplace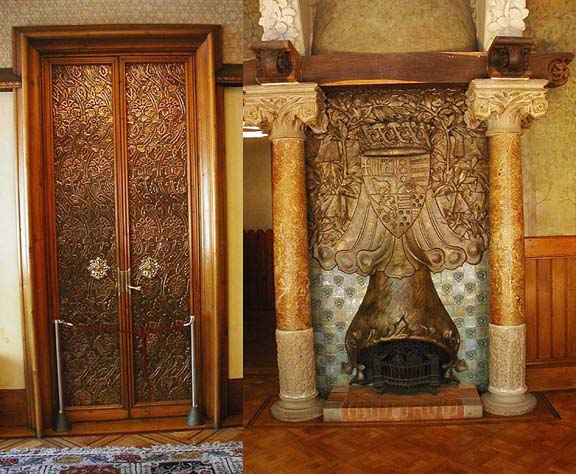 For a break on the way home, there are always cerveserias and tapas bars.